Data Link Translator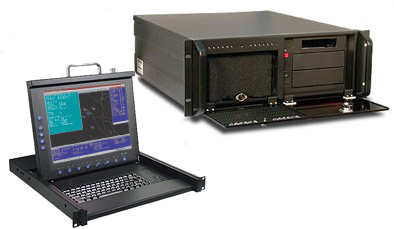 RSI 's Data Link Translator (DLT)is an off-the-shelf PC based tactical data link translator/ forwarder system supporting allied armed forces around the world.DLT is highly configurable by utilizing RSI 's Operational Core user interface package and then layering multiple radar and tactical data link translation interfaces from RSI's Interface Package Library (IPL). customer application-specific requirements are easily accommodated.
DLT is a PC based data link translation and forwarding system that uses ruggedized, commercial off-the-shelf hardware configurations for enhanced reliability and durability. Once installed and configured, the DLT automatically begins servicing translations for the configured data links. Subsequent system restarts require no operator interaction making the DLT a complete turn-key system.
Data Links
I/O Protocols and Standards
Datasheet
Link 16
(MIL-STD-6016, STANG 5516, JTIDS TIDIP)
Link 11, Link 11B
(MIL-STD-6011, STANG 5511, JCS Pub6)
ATDL-1
(MIL-STD-6013)
FAAD Data Link
(MIS36264)
Unclassified Data Link
(13162159)
Forwarding:
Link 16 Link 11/11B
Data Translation:
IDL Link 11/11B, FDL, UDL, ATDL-1
RS-232
RS-422
RS-449
RS-485
EIA-530
EIA-530A
SCRAMNET
V.35
V.36
X.25
HDLC
ADDSI
TCP, UDP, Multicast
In diverse multi-link environments, the DLT can rapidly share data between participants on different links. DLT links may be independently configured to act as both data sources and data destinations with messages received on a source link translated to one or more destination links.Users may pre-define a translation matrix identifying those configured source data links which are to be translated to destination data links.
DLT creates tracks in its track database from received track messages. External interfaces configured into the DLT independently scan the Track Database both on a periodic on-demand basis to generate the appropriate messages for each object.Message generation and processing is based on the requirements of the associated specification for each configured external interface (e.g. MIL-STD-6016B). Translation between configured links is governed by applicable translation specifications.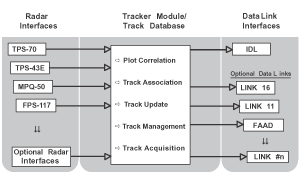 DLT is normally configured as a single workstation supporting multiple data link interfaces.The number of external interfaces supported by a single workstation is virtually unlimited.When more external interfaces are required,the DLT can be configured as a distributed network supporting multiple integrated workstations and processing nodes.Additional processing nodes can easily be added when elements of the system are physically separated.
One or more DLT 's can be combined with RSI 's ComLINK network providing forwarding and concurrent interface unit capabilities.