Mental Health MAA Time Tracking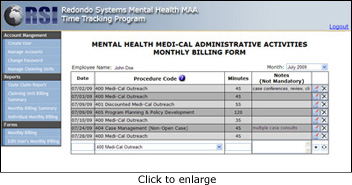 The Mental Health MAA Time Tracking tool allows counties, community based organizations and other agencies participating in Mental Health MAA the ability to track their time in the most advanced method available, through the web.
The Mental Health Medi-Cal Administrative Activities (MHMAA) program is an administrative reimbursement program that allows counties and certified cities to claim for administrative costs incurred during the proper and efficient administration of the Medi-Cal program. Eligible activities for reimbursement include: Medi-Cal Outreach, Medi-Cal Eligibility Intake, Referral in a Crisis Situation for a Non-Open Case, Contract Administration, Program Planning and Policy Development, Case Management for Non-Open Cases, Training and Coordination and Claims Administration.
The MHMAA Time Tracking tool allows users to track their time on a minute by minute basis. It allows administrators to create claiming units in which time survey participant results can be aggregated.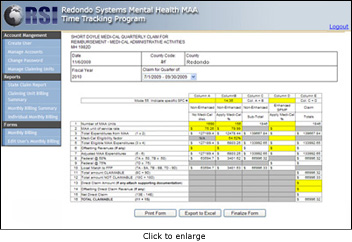 Based upon their security clearance, administrators can review subordinates time studies to ensure they have accurately and completely accounted for their time. Numerous reports are standard.
In addition, the MHMAA Time Tracking tool includes an MHMAA Invoice component. You will be able to review and modify time survey results and combine these results with required financial data to create a complete quarterly MHMAA Invoice. This modification can be done directly in the Time Tracking program or through Excel.